Local Coronavirus Updates
La Crosse County COVID-19 cases updated as of 3:00 p.m. on April 9th:
1 new cases

25 total cases

17 recovered



0 hospitalized
0 deaths
La Crosse County Notifying community event attendees who may be at risk for COVID-19 exposure - See information in the following media release link: 03222020 Possible event exposure to COVID19 release
If you think you have been exposed during this event, please complete this form: https://tinyurl.com/uza6fhu
HAVE A QUESTION ABOUT COVID-19? E-mail us: covid19@lacrossecounty.org or call our call center Monday-Friday 8:00-4:30 and Saturday 8:00-12:00 - 608-785-6240.
We recommend staying home.
MASK GUIDANCE: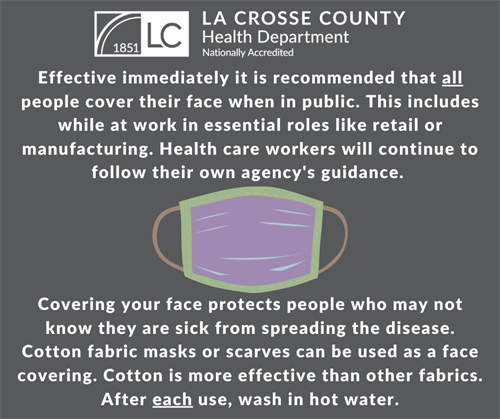 For tips on how to make your own cloth face covering, click on the video below: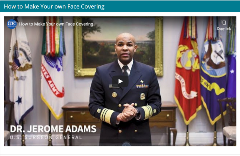 If you are interested in volunteering to make masks, visit https://www.ugetconnected.org/
If you have recently traveled, especially to a place with widespread community transmission of COVID-19, you should monitor your symptoms (fever, cough, tiredness, shortness of breath or difficulty breathing, or sore throat) for 14 days following your return and report to your healthcare provider if you develop symptoms.
Testing is being reserved for those with higher risk as determined by state and federal guidelines due to a shortage of testing supplies. That said, you do not need to have a test to know what to do. If you develop symptoms, stay home, take care of yourself, and seek medical care if you need it.
Link to Governor Evers Safer at Home
Strategy for Defeating Novel Coronavirus (COVID-19)
OFFICE CLOSURE
As of March 19, 2020 all La Crosse County offices will suspend walk-up services except for emergency and 24/7 operations in order to provide time to shift operations to online and remote options. We explore all options that enable keeping our customers and our co-workers safe. Phone-based and online services will still be available.
Public entrances closed include, but are not limited to:
Administrative Center
Law Enforcement Center (courts and Justice Support Services will remain open on a limited basis)
Health & Human Services Building
Household Hazardous materials collection site (landfill is open)
County Libraries

Personal Protective Equipment Donations: The State Emergency Operations Center has launched a PPE-personal protective equipment campaign. Check out the following website for more information. Website https://covid19supplies.wi.gov/donations. Currently the campaign is looking for surgical gowns, surgical masks, gloves either nitrile, vinyl, or butyral , tieback gowns or protective coveralls.

Stay home except for essential travel (i.e. grocery shopping, picking up medications, going to the doctor).
Wash your hands often with soap and warm water for 20 - 30 seconds.
Cover your mouth and nose when sneezing or coughing.
Avoid touching eyes, nose and mouth. Avoid others who may be sick.
Call your health care provider if you have any questions about your health.
The COVID-19 situation is rapidly changing. It is important to get your information from trustworthy sources. We recommend:
National info: www.cdc.gov/coronavirus/2019-ncov/
Wisconsin info: https://www.dhs.wisconsin.gov/disease/covid-19.htm
Local info: www.facebook.com/lacrossecountyhealthdepartment
IMPORTANT INFORMATION:
Supporting Teens COVID-19
RESOURCES