Local Coronavirus Updates




Have a question about COVID-19?

E-mail us: covid19@lacrossecounty.org or call our call center Monday-Friday 8:00-4:30 - 608-785-6240.
Or find us on Facebook, Instagram, and YouTube!
We urge you to wear fabric face masks if you must be in public, to practice physical distancing, and to stay home as much as possible. If you have ANY symptoms of COVID-19 including fever, chills, runny nose, congestion, muscle or body aches, cough, tiredness, headache, new loss of taste or smell, nausea, vomiting, or diarrhea to stay home and contact your provider to be tested for COVID-19.
DHS County Level COVID-19 Data
State of Wisconsin COVID-19 Information

Alert:
See the new Coulee COVID-19 Collaborative dashboard and 7 day averages: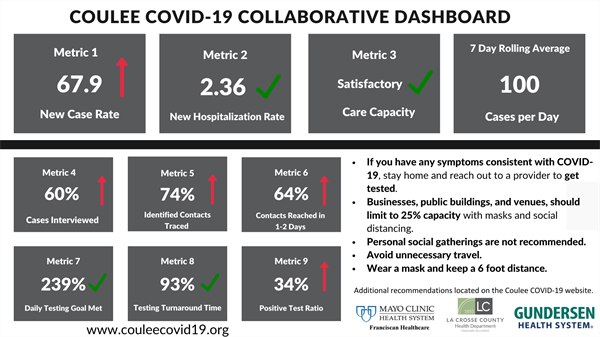 Current Coulee COVID-19 Collaborative Recommendations:
1. If you have any symptoms consistent with COVID-19, stay home and reach out to healthcare to get tested.
2. If you have been in close contact with someone who is COVID-19 positive, quarantine for 14 days and ONLY get
tested if symptoms occur. If you are asymptomatic, ONLY get tested if you develop symptoms or are advised by
county health officials.
3. If you need to be tested, please call medical facilities prior to arrival for screening purposes and pre-registration.
4. Wear a mask and keep a 6-foot distance when with others outside your household.
5. Wash your hands frequently and avoid touching your face.
6. Businesses should prioritize and/or resume active screening of employees. Symptomatic employees should
stay home.
7. Organizations that care for populations vulnerable to COVID-19 including older adults, individuals at high risk or with underlying health conditions, etc. should limit visitors and increase screening of employees.
8. Avoid unnecessary travel.
9. Personal social gatherings are not recommended.
10. Minimize mass gatherings in businesses, public buildings, and venues. Capacity should be limited to 25% of total capacity OR 50 people indoors (100 outdoors) whichever is less. Masks and physical distancing should be required.
11. Avoid businesses and locations that are not following recommendations on masks, physical distancing and capacity limits.
See more info here.