Resources
The COVID-19 situation changes rapidly. It is important to get your information from trustworthy sources. Here are some that we recommend:


General Information on COVID-19
For general information on COVID-19 (with lots of helpful links to other sector-specific guidance), we suggest using the Centers for Disease Control and Prevention (CDC) and the Wisconsin Department of Health Services (DHS). The La Crosse County Health Department also provides pertinent information and updates on our Facebook page; for those that utilize social media, we invite you to connect with us there.
Centers for Disease Control (CDC)
WI Department of Health Services (DHS)
La Crosse County Health Department Facebook Page

Daily Data on Cases, Tests and Case Activity
If you are seeking daily updates, please visit one of the following resources:

Wisconsin COVID-19 Data*
CDC COVID-19 Data Tracker*
COVID-19 by County*
*Please note that there may be a delay of 2 - 7 days for case data from the local level filtering up to these state and federal resources.
K-12 School Recommendations
Schools have policies and procedures in place to limit the effects of COVID-19 within their buildings. Please contact your child's school website for information.
Additional resources can be located at:
CDC Guidance for COVID-19 Prevention in K-12 Schools
American Academy of Pediatrics Statement on Updated Recommendations
WI DHS COVID-19 K-12 School Guidance
WI Department of Public Instruction (DPI) Information on COVID-19
Child Care Recommendations
Guidelines for the Prevention, Investigation, and Control of COVID-19 in Child Care Settings (wisconsin.gov)
Travel Resources
Traveling during the COVID-19 pandemic carries inherent risk. When possible it is best to delay travel and/or carefully plan out travel to reduce risk as much as possible. Specific information on how to reduce your risk during travel is provided by the CDC and the WI Department of Health Services:
CDC Domestic Travel Guidance
CDC International Travel Guidance
CDC COVID-19 Travel Guidance by Location
WI DHS Travel Guidance

Mask Guidance
During times of substantial and high community transmission*, wearing a mask helps prevent people who may not know they are sick from spreading the disease we well as helping to protect the wearer from being exposed. Therefore, when COVID-19 transmission is high, the use of a well-fitted face mask is recommended.
*There are several data points that reflect community transmission rate, such as percent of positive tests, case rates, hospitalizations, deaths, and vaccination rates.
For more information on masks, please see the following resources:
CDC COVID-19: Your Guide to Masks
WI DHS COVID-19: Wear a Mask
Coulee COVID-19 Collaborative: Masking For You Signage (print this sign and post in your organization to promote community mask wearing)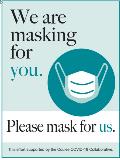 It is recognized that a well-fitting mask is an important mitigation measure for the general population. Some individuals may have difficulty wearing masks and choose alternative measures. Some individuals may choose to continue to wear a mask when the community risk is low due to personal choice or health reasons. It is important that we refrain from judging each other, and that we extend compassion and understanding to those whose circumstances may be different than our own. Additionally, please note that COVID-19 is a fluid situation that changes frequently. A change in circumstance or knowledge in the future may change recommendations about this topic and others.
Accessing Community Resources for Food, Insurance and Other Assistance
The COVID-19 pandemic and its impacts on diverse areas of our economy has widespread implications for our residents and families. If you find yourself in need of help to see if you or your family may be eligible for help with resources such as food and housing, registering for Medicaid, or other community resources, please contact our department by calling 608-785-6240 or emailing [email protected]
You may also be interested in the following resources:
ADRC Food Resources
La Crosse County Senior Nutrition Program