Testing Information
Next Testing Event: Friday, July 10th. 10am-6pm.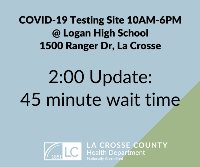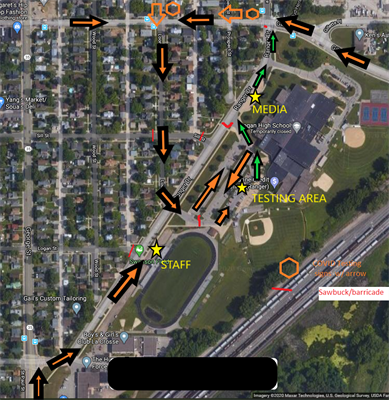 La Crosse County Health Department is partnering with the Wisconsin National Guard and Logan High School (La Crosse School District) to host a community drive-through COVID-19 testing site. This is a nasal swab test. Testing is still available at local health care partners for those with symptoms.

This testing site is open to anyone age 5 years and older who is currently experiencing any of the following symptoms. Please note that even those with mild symptoms are encouraged to attend.

-fever
-cough
-shortness of breath or difficulty breathing
-chills or repeated shaking with chills
-muscle pain
-headache
-sore throat
-new loss of taste or smell

This testing site is intended for La Crosse County residents. Note that lines may become long and attendees need to remain in their vehicles. Bring a book or other in-car entertainment. No antibody testing will be completed at this time.

Additional guidance including a traffic entry point map will be added as they are available. Status updates on the number of tests remaining will be shared periodically on the 10th on our Facebook page and on our website: lacrossecounty.org/covid19/testing-information.

If you need to be tested for COVID-19, we recommend contacting your medical provider for guidance.


What to Do After Getting Tested