Vaccines
COVID-19 Vaccine: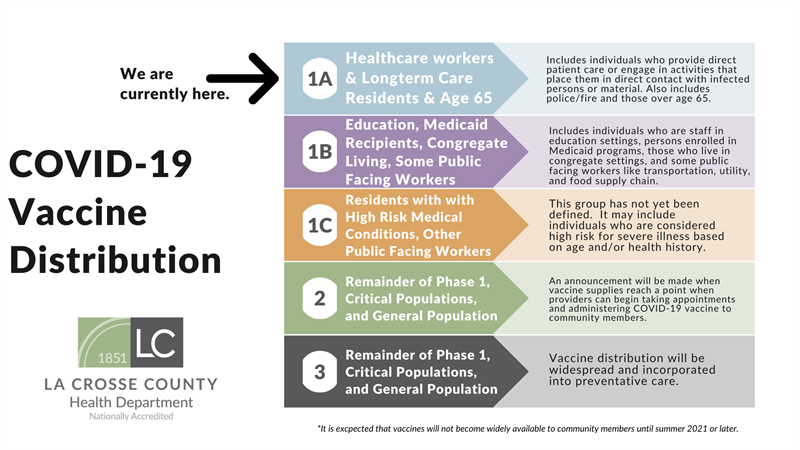 COVID 19 Vaccine Screening and Interest Form
La Crosse County Health Department is asking that anyone interested in receiving a COVID-19 vaccine completes the new Screening and Interest Form. This form will automatically connect those eligible for a vaccine with a vaccine provider, who will contact them directly for an appointment. Gundersen Health System and Mayo Clinic Health System will contact patients through MyChart and Patient Online Services. Current Mayo Clinic Health System patients may receive communication from their health care system. If you are contacted by your health care provider, you do not need to complete this form.

The Vaccine Interest and Screening Form should be completed only one time and it may take some time before a vaccine provider reaches out to schedule an appointment. Those who are not currently eligible for vaccine will be able to provide contact information for La Crosse County Health Department to contact you when we move to additional phases for vaccination. Completing the online form is the quickest way to ensure a connection to vaccine.
Currently, Wisconsin is vaccinating only those who are Phase 1A front-line health care workers, police, or fire department personnel, and those age 65 or older. A federal partnership with pharmacies has also ensured that residents and staff of long-term care facilities have been vaccinated.
On March 1st, those who meet eligibility for 1B (see below) can start to receive their COVID-19 Vaccination. When vaccine supply is limited, it will be prioritized to those at the highest risk of severe illness and death from COVID-19. It will take time to vaccinate this population and vaccine supply will dictate the timeline.
We will be following the priorities established by the Wisconsin Department of Health Services Vaccination Program.
A safe and effective COVID-19 vaccine will be an important tool for our community to begin to resume normal day-to-day activities and to be able to regain a strong economy.
We will continue to keep this website up to date as the information becomes available.


Who is eligible for vaccination as a 1A organization or employee?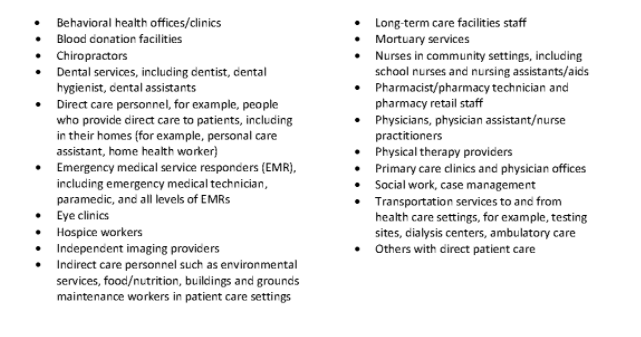 1b eligible populations can start to receive their COVID-19 vaccine on MARCH 1, 2021 - or sooner as supplies permit.
Those in 1B call fill out our Vaccine Screening and Referral Form. Please note this form is being revised and will include all 1B populations on 1/29/2021.

1b eligible populations: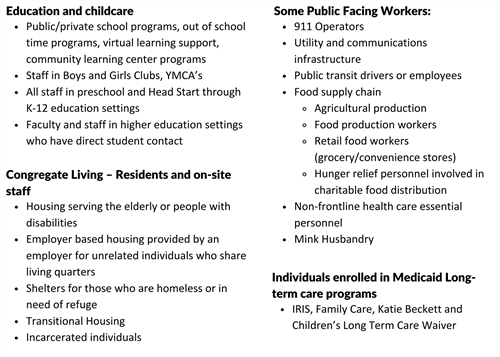 Trauma Acknowledgment: The La Crosse County Health Department wishes to acknowledge that many of our community members have undergone years of disinvestment, biased treatment, and lack of access. We empathize with those who have historically or personally experienced discriminatory treatment in our community. These experiences have reinforced cycles of trauma and created a lack of trust with the government and with healthcare. The decision to receive a COVID-19 vaccination is a personal one. Our health department aims to educate the public about the safety and benefits of vaccination while also acknowledging these truths. We aim to build trust and the most equitable health outcomes.
How many vaccines have been given in La Crosse County?

The Wisconsin Department of Health Services now tracks this data here: https://www.dhs.wisconsin.gov/covid-19/vaccine-data.htm. You can see how many vaccines have been given in Wisconsin, the Western Region, and La Crosse County.
Why do we need a vaccine?
Getting vaccinated is one of the best ways to protect yourself and your community. A COVID-19 vaccine can protect you from getting sick and potentially prevent you from spreading the virus to others.
It is important to note that a vaccine will not replace the need to continue other actions that stop the spread of COVID-19. This is especially true while we are still in the process of administering the vaccine, and this may take many months.

Will the vaccine be safe and effective?
Vaccine approval is driven by science. The FDA, CDC, and independent advisors all review vaccine safety and effectiveness data before any vaccine is approved or allowed for distribution. COVID-19 vaccines go through all of the usual steps and phases that all vaccines go through to get full approval.
The FDA and CDC will continue to closely monitor the vaccine as it is rolled out.
You can visit the CDC's website for more information about the safety of COVID-19 vaccines: https://www.cdc.gov/coronavirus/2019-ncov/vaccines/safety.html.

Who will be able to get vaccinated?
There will be a limited supply of vaccine at first. When supply is limited, it is likely that front line healthcare workers will be the first group to receive the vaccine. As the supply increases, other essential workers and people age 65 and older will also be in the first groups to receive the vaccine. Later, as more becomes available, groups at higher risk for contracting COVID-19 and the general public will be recommended to get the vaccine.
You can view CDC's full COVID-19 vaccination plan here and DHS's vaccination plan here.

What can I do in the meantime, until the COVID-19 vaccines becomes available?
Continue to follow local public health guidance, and follow the recommendations on our couleecovid19.org website.

After I get the COVID-19 vaccine, do I still need to wear a mask and social distance? Do I need to still quarantine after an exposure?
The answer is yes to both of these questions. Until enough people have been vaccinated for COVID-19, it remains very important to continue to use all of the tools we have available, including masks and social distancing by those who have been vaccinated.

I am a healthcare worker or retired healthcare worker, how can I volunteer to help with COVID vaccination?
We are accepting volunteers through the WEAVR database: https://www.dhs.wisconsin.gov/preparedness/weavr/index.htm. When we are ready to take volunteers, we will be contacting you from this database.

I am a healthcare provider in 1A. I haven't been offered the vaccine yet. What can I do?
Fill out the Vaccine Screening and Referral Form, so healthcare providers can schedule your vaccine appointment directly with you.


Additional Resources:
Wisconsin DHS Vaccine Information
World Health Organization Vaccine Information
Mayo Clinic Health System COVID Myths Debunked

Flu Vaccine:
To find locations for flu vaccines visit: vaccinefinder.org.