Department of Health Services (DHS) Community Based Vaccine Clinic (CBVC) Frequently Asked Questions
Where To Start: Eligibility & Registration
How do I know if I'm eligible for the vaccine?
Where can I register?
Anyone wishing to receive a COVID-19 vaccine is invited to register at vaccinate.wi.gov/
To register, click on the "Register now to schedule a COVID-19 vaccination appointment" button

Once registered, you will receive a confirmation email. You will then be contacted by DHS via email or phone to setup an appointment
See "When can I setup my appointment?" below


What if I have a medical condition and have questions about how my body will react to the vaccine?
Please connect with your provider or utilize the following nurse line resources before registering or scheduling your appointment:
Which type of vaccine is administered at the clinic?
The vaccine type may vary over time, depending on availability. All COVID-19 vaccine options are highly effective at preventing death, hospitalization and severe COVID-19 illness. The best vaccine option is the one you can get the soonest.
For more information on the different vaccines, please click here
---
Wisconsin State Vaccine Registry (vaccinate.wi.gov) Questions
What is the contact information for the Wisconsin DHS Call Center if I have questions in this process?
Toll-free Hotline: 1-844-684-1064
Hours of Operation: 7:00 a.m. to 7:00 p.m. every day


When can I sign up for my appointment?
Once registered, you will receive a confirmation email. You will then be contacted with an email from "WI-VACCINATE-NOTICE" (or by phone if you do not have an email to enter in the registration process) to setup an appointment. The email will look like this below photo:

I received a registration code with an email to schedule my appointment. What do I do now?
Once you click on "SCHEDULE APPOINTMENT" in your email, it will begin the registration process and your registration code will be auto-populated to the DHS Registry System: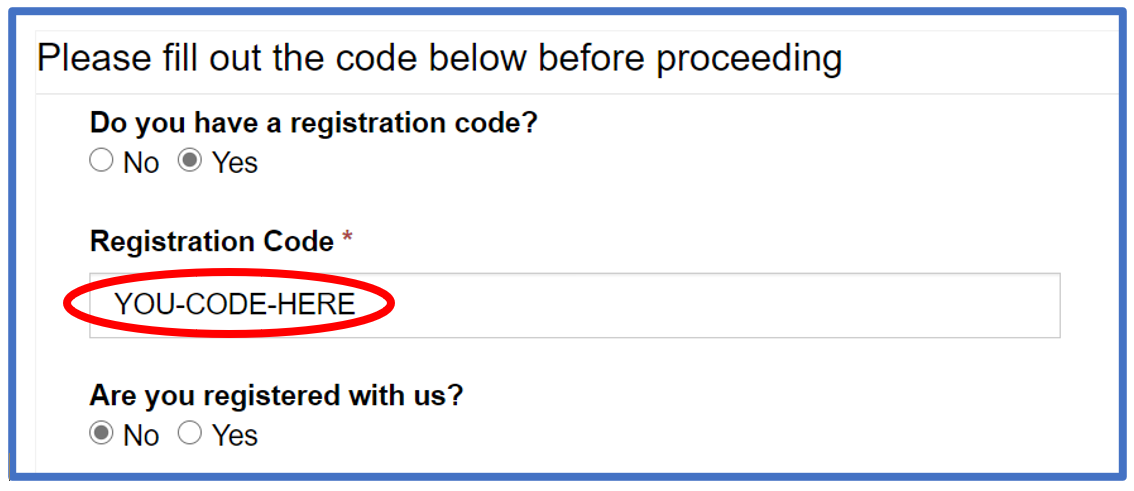 If you have already registered with the DHS registry and only need to schedule the appointment, make sure to mark "Yes" to "Are you registered with us?" and proceed to enter in your name, email, and birthday: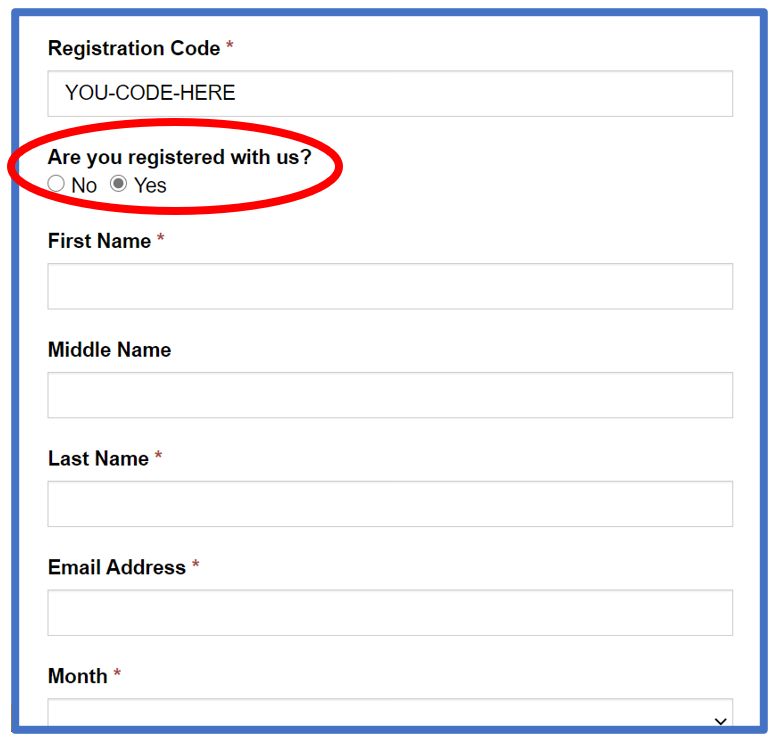 I have registered and have a registration code. I followed the steps above and my code isn't working. What is my next step?
If for some reason you cannot get the code to work when registering, please call the DHS Call Center at 1-844-684-1064 between 7:00 a.m. and 7:00 p.m. for assistance.
When you call, make sure to tell them: "I have a registration code that is broken and need to talk to the specialty team."


If your date of birth (DOB) auto-populates into the form, we encourage you to remove it and re-enter it by hand.
This will help avoid the error message of "DOB is a required field."


I have entered my registration code and information and have gotten to the "Covid Vaccine – Location Map" page. It says there aren't any clinics "in range" (within 100 miles of me). What is my next step?
In the box above the map where your address is auto-populated, you can click into that box, delete your address, type in "La Crosse, WI" and click the "Search" button to the right. The clinic will show up as "DHS-CBVC-La Crosse" (Department of Health Services Community Based Vaccine Clinic - La Crosse) on the right-hand side of the map and allow you to choose "Book Appointment."
If the map does not populate and you cannot select DHS-CBVC-La Crosse and choose the Book Appointment button, there are currently no appointments available at the clinic and you should check back at another time.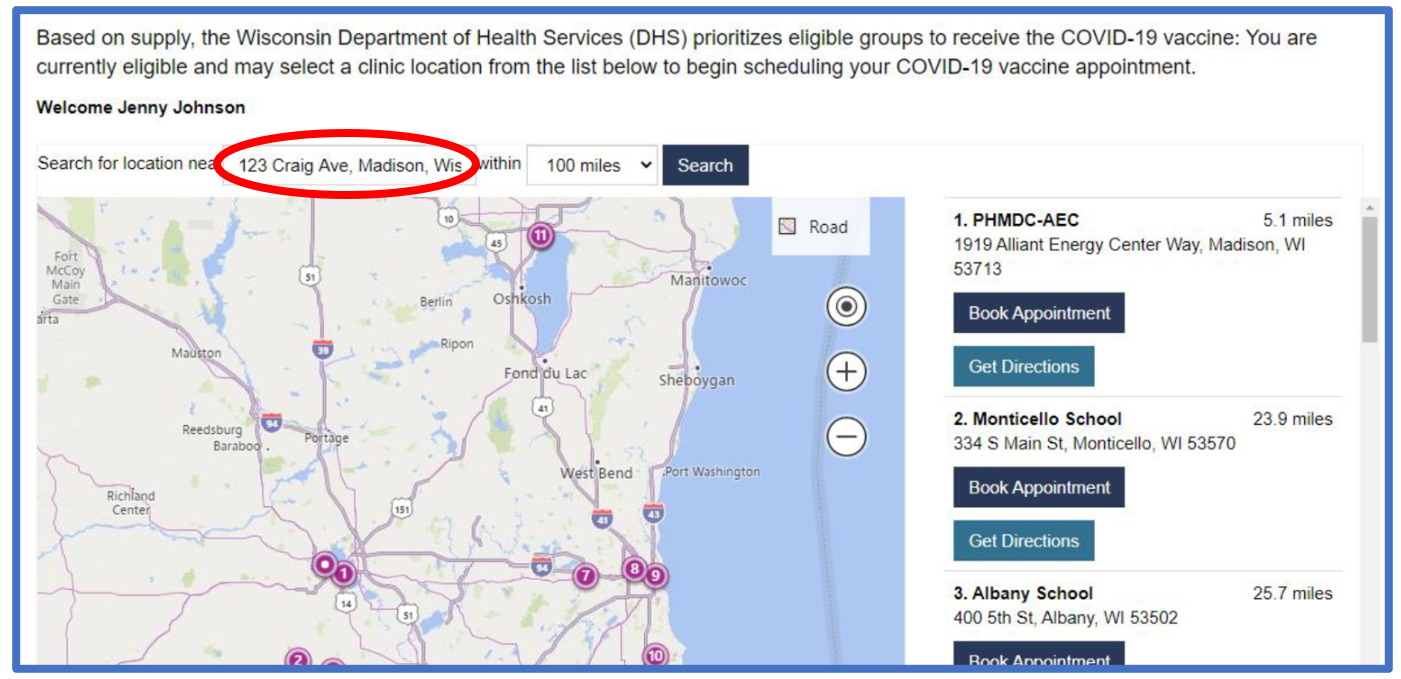 What if I already received my first dose elsewhere and am seeking a second dose?
If you are seeking a second dose of the COVID-19 vaccine, you are invited to register at vaccinate.wi.gov.
Once on this page, click on the "Register now to schedule a COVID-19 vaccination appointment" button to register.
As you go through the registration process, there will be a section similar to the photo below where you can choose that this would not be your first vaccine appointment and be allowed to enter the date of your first appointment along with the type of vaccine you received (Pfizer or Moderna):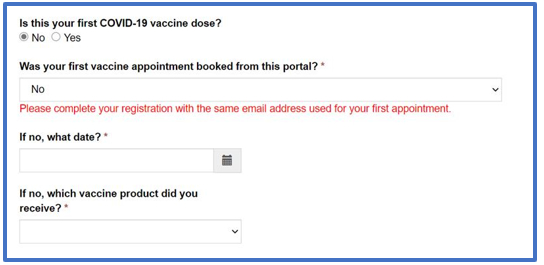 You will receive a confirmation email with the appointment information. You are NOT required to print the QR code and bring it to your appointment. You can be looked up by your name if you bring a form of identification.
---
Community Based Vaccine Clinic (CBVC) – UWL Site Specific Questions


When is the clinic open?
The clinic will be open Tuesday through Saturday from 11:00 a.m. to 7:00 p.m.


Where is the clinic located?
UW-La Crosse Cleary Alumni & Friends Center: 615 East Avenue North, La Crosse, WI

Corner of East Avenue and La Crosse Street

There is free parking in the adjacent lot.


I work in La Crosse County but live elsewhere. Will I be able to receive the vaccine at the clinic?
Yes, the clinic is open to eligible people who live or work in La Crosse County.


Is there a cost for the vaccine?
No, there is no cost for the vaccine.

If I have to reschedule or cancel my appointment, What do I do?
You can do so through your confirmation email by using the links provided (see below photo).
If you do not have access to your confirmation email, please call the DHS Call Center at
1-844-684-1064 between 7:00 a.m. and 7:00 p.m. for assistance.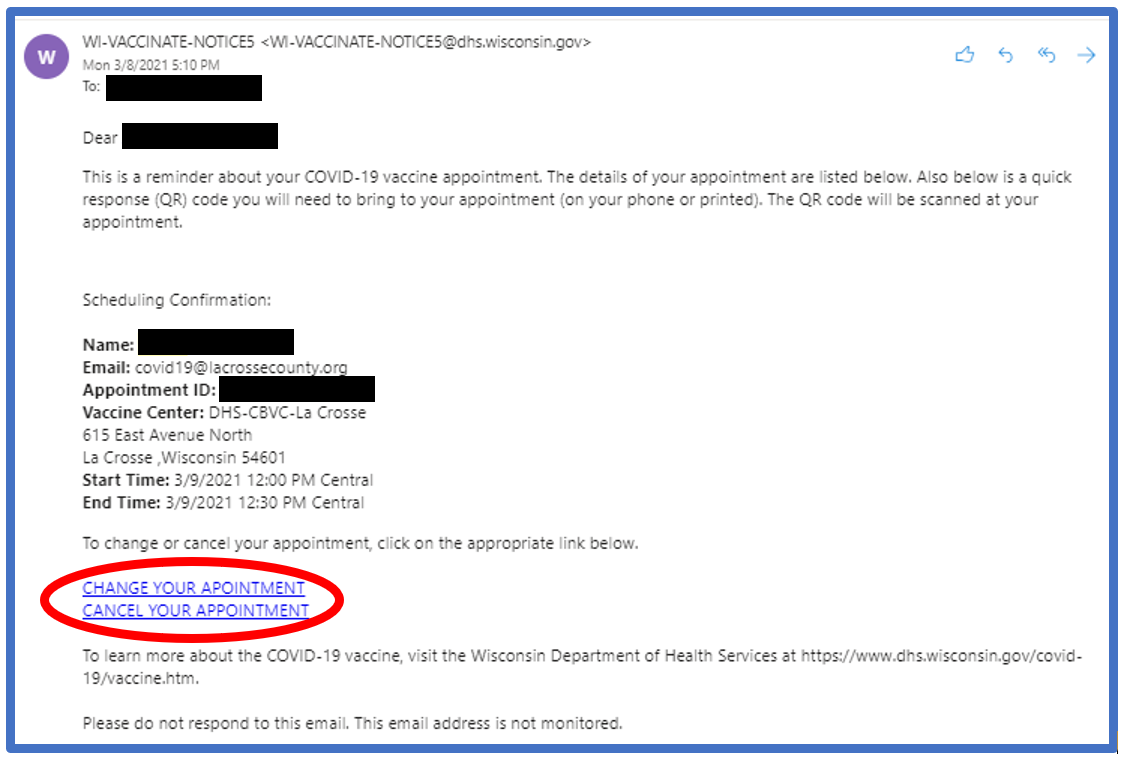 click here
Does this vaccine require two doses?
Yes, this vaccine is administered in two doses and you will need to have your second dose appointment at this location.
While visiting the clinic for your first shot, you will be asked to make an appointment for your second dose.


What time will my second appointment be?
Your second vaccine appointment will be the same time as your first appointment on the day that is told to you at the clinic. You will receive documentation for your second appointment during your first time at the site – please hold onto that documentation!

If you are unaware of the time of your first appointment, please review your confirmation email that you received or call the DHS Call Center at 1-844-684-1064.
How many doses are available? What is the vaccination capacity?
Initially, the clinic will administer approximately 200 doses of the vaccine each day, although it has the capacity to administer as many as 1,000 doses each day. The number of doses administered will depend on the amount of vaccine Wisconsin receives from the federal government.


Who's operating and staffing the clinic?
Wisconsin Department of Health Service (DHS)coordinating all vaccination appointments. The clinic itself is staffed by workers from AMI Expeditionary Healthcare.
---
After Your Vaccine Appointment Questions

Is it possible to contract COVID-19 between vaccination doses?
Yes, and this is why it's important that you continue to wear a mask, practice social distancing and wash your hands. The first dose provides only partial protection from the virus. Most people do not develop the full protection produced by the vaccine until approximately seven days after their second dose. Even at this stage, people should continue following health and safety guidelines until the pandemic is over. We do not yet have a full understanding of how well the vaccine prevents transmission.
I received the vaccine and am experiencing side effects. What side effects are normal, and at what point should I call my doctor?
It's common for people who have received the vaccine to experience soreness at the site of the injection. Fatigue, headache, muscle aches, chills, joint pain and fever are also frequently reported side effects. In most cases, these effects will diminish or disappear in 24 to 48 hours.
The CDC advises that you should contact your doctor or health care provider if:

1) the redness or tenderness around the injection site increases after 24 hours
2) the effects are so severe that they become worrisome, or
3) the effects do not diminish after three days
Educational Materials: