Division of Emergency Management
La Crosse County Emergency Management (LCEM) engages the whole community in assessing needs and developing strategies to achieve stronger preparedness, prevention, response, and mitigation capabilities within the La Crosse County Area.
Our office supports first responders, including fire, law enforcement, and emergency medical services in emergencies and disasters. We are also responsible for facilitating the coordination of resources from Local and State partners, community-based organizations, and faith-based organizations to provide community members with relief and supplies in an emergency or disaster.
Welcome Message from the Director

"I work to support the forward movement of the whole community. My goal is to help our community in preparing for, responding to, and recovering from various types of emergencies. Preparedness is a continuum."
-Tracy Hameau, Emergency Management Coordinator
About La Crosse County Emergency Management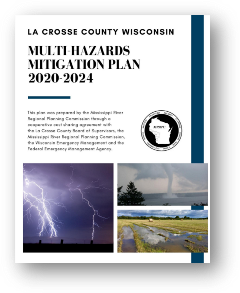 The La Crosse County Emergency Management office is a subdivision of the Sheriff's Office. Our main priority is to keep our community safe during and aid them through events such as natural disasters, acts of terrorism, or other man-made disasters. Our three-pronged approach includes:
Preparedness: Prevent risks and hazards through education
Response: Coordinate, organize, and support emergency efforts across the field to help mitigate risks and hazards.
Recovery: Support families and businesses through the recovery process.