Web Mapping
In order to illustrate transportation projects, facilities, and performance monitoring in a dynamic, user-friendly way, LAPC staff has and will continue to develop web maps for public viewing. Web maps, which are published in the Gallery of the La Crosse County Land Information GIS Web App Portal, can be accessed through our Web Mapping page.
Highway and Freight Planning
The LAPC engages in high level highway and freight planning during the planning process for the update of its quinquennial metropolitan transportation plan (MTP). Corridor level planning is generally initiated by our Minnesota and Wisconsin Departments of Transportation or our local governments.
The LAPC participates in State and local planning efforts as a stakeholder on technical advisory committees and as a resource for local data. After every decennial census, LAPC staff update local employment and land use information used by the Wisconsin Department of Transportation in its travel modeling activities.
Additionally, LAPC staff conduct studies and prepare inventory reports to accompany and supplement the MTP:
Natural and Cultural Resource Inventory: A Supplement to Beyond Coulee Vision 2040, May 2020
Weathering Climate Change: A Vulnerability Assessment of Road, Bridge, and Rail Infrastructure, December 2018
Public Transit and Passenger Rail Planning
The LAPC supports transit by preparing the transit development plans (TDPs) for the La Crosse Municipal Transit Utility (MTU) and by serving on the boards and technical advisory committees of several passenger rail advocacy organizations.
Public Transit Planning
The new Regional Transit Development Plan (RTDP) for the La Crosse MTU, Onalaska Shared Ride, and Scenic Mississippi Regional Transit was prepared in 2021 by SRF Consulting staff during a year-long planning process that included extensive public engagement opportunities. The RTDP is comprised of two plan development documents and an executive summary:
TDPs are usually prepared by LAPC staff for the La Crosse MTU every five years or so and typically have a 10-year planning horizon. The previous TDP--Grand River Transit Service Enhancement & Policy Plan 2015-2025--was completed in May 2015.
The LAPC has also partnered with other agencies, most recently the Mississippi River Regional Planning Commission (MRRPC), UW Extension, and La Crosse County, to prepare a Commuter Bus Service Feasibility Study to connect Arcadia in Buffalo County and Tomah in Monroe County to La Crosse. An outcome of this study was the expansion of SMRT service to Tomah in 2019.
Passenger Rail Planning
The LAPC has partnered with the Wisconsin and Minnesota Departments of Transportation since 2015 in the conceptualization and planning of a Twin Cities-Milwaukee-Chicago Intercity Passenger Rail Service. The project adds a second round-trip train between Chicago and the Twin Cities on the existing Amtrak Empire Builder route.
The LAPC is also a member of the Great River Rail Commission whose charter is to "cooperatively advocate for, analyze the feasibility, environmental impacts, engineering, construction, and operation of an integrated rail transportation system in the Twin Cities-Milwaukee-Chicago Rail Corridor that includes passenger, high speed, commuter and freight rail along with its associated land use and development impacts."
Bicycle and Pedestrian Planning
Good bicycle and pedestrian facilities are key to providing access to transit, reducing auto dependence, and increasing safety.
The LAPC plans for new and improved bicycle and pedestrian facilities by preparing bicycle and pedestrian plans (the current one being the 2035 Coulee Regional Bicycle Plan, which needs to be updated), conducting studies like the Bicycle and Pedestrian Safety Study 2011-2015, serving on local ad hoc committees like the La Crosse Safe Routes to School Committee, coordinating with local communities to extend and connect trails, working through our Committee on Transit and Active Transportation (CTAT) with local communities to establish regional bike routes, and preparing applications for local governments submitting projects for transportation alternatives program (TAP) funding. The CTAT is the LAPC advisory committee that ranks TAP applications submitted by local governments in the planning area.
In 2020, WisDOT awarded over $1.2 M in federal funds toward a multiuse trail between S Kinney Coulee Rd and Landfill Rd along STH 16 in the city of Onalaska ($545,000) and toward a bicycle/pedestrian bridge over the La Crosse River in Veteran's Park in West Salem ($666,100). These projects will be constructed in 2022 and will result in a nine mile off-road bicycle/pedestrian facility between the city of La Crosse and the village of West Salem.
The LAPC also prioritizes projects through its project ranking process Surface Transportation Program-Urban projects that include bicycle and pedestrian facilities.

Local Plans and Planning Efforts
Town of Holland Bicycle and Pedestrian Plan
The Town of Holland completed a Bicycle and Pedestrian Plan in December 2022. This Plan was funded with Local Studies funds from the LAPC.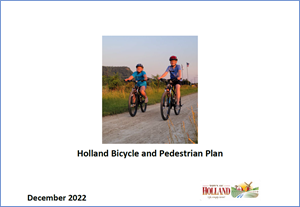 Local Endeavors
La Crosse Neighborhoods, Inc., with support from other bicycling advocacy groups and business sponsors, has launched the Drift Bike bike-share service in La Crosse. They have stations located at Riverside North, Riverside South, Pump House Regional Arts Center, Landmark by the Rivers, Belle Square, Cameron Park, Western Technical College, and Burns Park.
Please visit the Drift Cycle website for more details and how to join!