We are continuing to closely monitor the COVID-19 situation and county health recommendations in order to serve the best interests of our communities.

Below you'll find the latest information on upcoming programming—you can also follow us on our Facebook page and subscribe to our newsletter to stay up to date.
Jump to:
---
Fall Programming
Check out our Fall 2022 program flyer!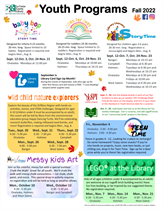 Our Fall Story Times have wrapped up for the year! Our next story time session begins January 9, 2023.
---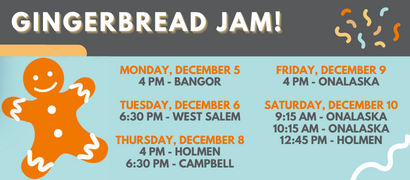 Enjoy a mini story time and decorate your own gingerbread cookie! Registration is required.
Update 11/29/22
We have spots remaining in the following sessions:
❄️Monday, Dec 5 - 4pm at Bangor Library
❄️Tuesday, Dec 6 - 6:30pm at the West Salem Library
❄️Thursday, Dec 8 - 6:30pm at the Campbell Library
❄️Saturday, Dec 10 - 12:45pm at the Holmen Library
---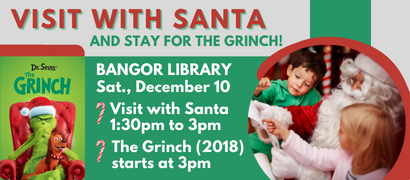 Guess who's coming to the Bangor Library!? Drop by for a visit & photo with Santa and stay for the 3pm holiday movie. We're showing the 2018 version of The Grinch!
---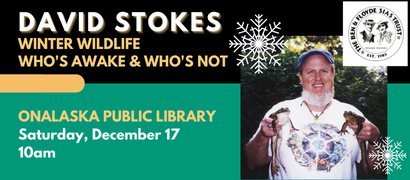 Environmental educator David Stokes is back to answer the question: Which animals are awake in winter, and which ones are sleeping? Through the use of songs, stories, riddles, puppets, toys, live animals, and biofacts, participants will be involved in hands-on exploration of "Animals in Winter."
Hibernation, migration, activation, and winter sleep will all be explored in a fun, educational way. This is a free family event; no registration required.
---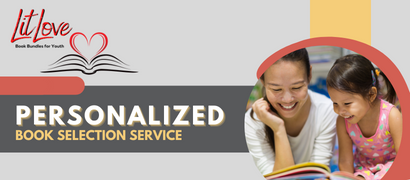 Curious about creepy crawlies? Robo-motion? How to introduce your preschooler to Hebrew and other languages with Sesame Street?

Head into fall with some literary love curated just for you by our Youth Services team. Just let us know what you're interested in, and we'll help you find it! Service also available for educators.
LitLove Book Bundle Request Form
---
Booklists
Booklists are suggested reading in various categories provided by our Youth Services Librarians, New York Times Best-sellers list, etc.

Reader's Advisory
Reader's Advisory is a service to assist young people and their families, and those who work with children, in selecting reading materials. Stop by to talk with a youth services librarian at the Library's youth services desks in Onalaska, Holmen, and West Salem, or before and after youth programs at any of the five County Library branches. They will be happy to recommend books and other materials for children and teens with regard to abilities, age levels, and interests.

Contact Us
Youth Services Staff travel to each of the five library locations to conduct programs, select and maintain books and other materials, conduct Reader's Advisory, and provide many other services for children, teens, and their families.

Youth Services has offices in Holmen, Onalaska & West Salem:

Holmen Public Library
121 W. Legion St * PO Box 220
Holmen, WI 54636
526-4641
Onalaska Public Library
741 Oak Ave S
Onalaska, WI 54650
781-9568 ext 5
West Salem Library
702 Industrial Drive
West Salem, WI 54669
786-1505
email: [email protected]