We are continuing to closely monitor the COVID-19 situation and county health recommendations in order to serve the best interests of our communities.

Below you'll find the latest information on upcoming programming—you can also follow us on our Facebook page and subscribe to our newsletter to stay up to date.
Winter Programming 2021-2022

Story Times
Update 1/5/22: Due to the ongoing COVID situation and in consideration of the safety of our communities and young patrons, we have made the difficult decision to delay the restart of in-person story times until the week of January 31.
In-Person Library Learners Story Times geared toward ages 3-5 are set to resume January 31-February 18! Join us for stories, songs, movement, and rhymes with themes like Unicorns, I Am Me!, Antarctic Adventures, Color Your World, Shapes, I Love the Library, Rock On, Emotions, and more.
Due to Covid concerns, registration is required and limited and can be done online or in person at each of our locations. Watch for news on a possible second session slated for March 14-April 22.
Winter Indoor Story Times Registration

In-Person Preschool Story Times Schedule | January 31-February 18
Bangor: Mondays at 10:15 am
Campbell: Thursdays at 6:30 pm
Holmen: Tuesdays at 6:30 pm and Wednesdays at 10:15 am
Onalaska: Mondays at 6:30 pm and Fridays at 10 am
West Salem: Tuesdays at 6:30 pm and Wednesdays at 10:15 am
---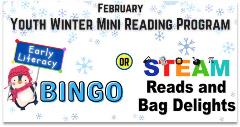 February Youth Winter Mini Reading Program
Want to stay active and keep learning this winter? Check out our Mini Reading Program Challenge that begins February 1st.
Kids ages 0-18 will have a chance to earn a book and enter to win a Grand Prize, a gift certificate to Onalaska's Jump Start Adventure Park.
---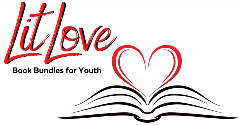 LitLove Book Bundles
Youth Services is pleased to offer a youth book selection service. Please complete the online form below, and our Youth Services team will compile a bundle of five books for you to borrow based on your (or your child's) reading interests. Requests are handled in the order in which they are received. We will contact you with pickup details as soon as possible once we have completed your book selections.
LitLove Book Bundle Request Form
---
Summer 2022 Programming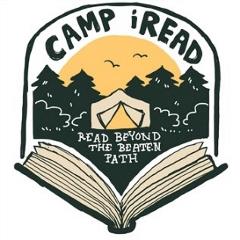 Summer Library Program
We'll blaze our own trail and explore new ways of learning and creating with tech, nature, music, art, science, math, and more at the library and beyond in our Read Beyond the Beaten Path Summer Library Program. Registration and programs run June 6-July 30. More details to come!
---
Booklists
Booklists are suggested reading in various categories provided by our Youth Services Librarians, New York Times Best-sellers list, etc.

Reader's Advisory
Reader's Advisory is a service to assist young people and their families, and those who work with children, in selecting reading materials. Stop by to talk with a youth services librarian at the Library's youth services desks in Onalaska, Holmen, and West Salem, or before and after youth programs at any of the five County Library branches. They will be happy to recommend books and other materials for children and teens with regard to abilities, age levels, and interests.

Contact Us
Youth Services Staff travel to each of the five library locations to conduct programs, select and maintain books and other materials, conduct Reader's Advisory, and provide many other services for children, teens, and their families.

Youth Services has offices in Holmen, Onalaska & West Salem:

Holmen Public Library
121 W. Legion St * PO Box 220
Holmen, WI 54636
526-4641
Onalaska Public Library
741 Oak Ave S
Onalaska, WI 54650
781-9568 ext 5
West Salem Library
201 Neshonoc Road
West Salem, WI 54669
786-1505
email: [email protected]