West Salem

The Hazel Brown Leicht Memorial Library was built after a great community effort to raise funds for its construction. It was completed and opened in December of 2000.
A West Salem resident, Marjorie Schonsby, subsequently left money in her will to the Village of West Salem to build an addition to the Children's area of the Library, which was completed in 2003. The library has 9500 square feet of space. Village of West Salem website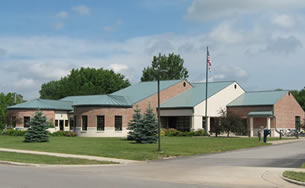 Open Hours
Monday
10:00 am - 8:00 pm
Tuesday
10:00 am - 8:00 pm
Wednesday
10:00 am - 8:00 pm
Thursday
10:00 am - 8:00 pm
Friday
10:00 am - 5:00 pm
Saturday
9:00 am - 2:00 pm
Hazel Brown Leicht Memorial Library
201 Neshonoc Rd West Salem, WI 54669-1328
(608) 786-1505
[email protected]
Branch Manager - Ashley Giese

West Salem Book Clubs: Evening and Afternoon NOTE: Book clubs currently suspended at this time due to Covid-19.
Ongoing Book Sale
The La Crosse County Library and the Friends of the Library offer used and donated materials for sale. Each library location has book sale items. West Salem's items are near the reference section; current pricing is posted in the sale area.