Campbell

The smallest of the five county branches, the F.J. Robers Library in the Town of Campbell is located at 2548 Lakeshore Drive on French Island. In 1975 the library was moved into the Campbell Town Hall and in September 2013 the Library was relocated to a renovated building to expand our space. Over 10,000 items make up the library collection, which includes adult and children's fiction and non-fiction, reference, magazines, videos for adults and children, CDs, audio books, and Family Fun Bags.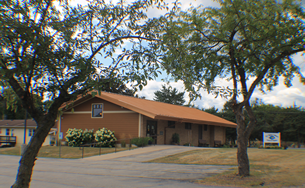 Open Hours
Monday
10:00 am - 8:00 pm
Tuesday
1:00 pm - 8:00 pm
Wednesday
10:00 am - 5:00 pm
Thursday
1:00 pm - 8:00 pm
Friday
9:00 am - 1:00 pm
Saturday
9:00 am - 1:00 pm
F.J. Robers Library
2548 Lakeshore Drive. (French Island) La Crosse, WI 54603-8538
(608) 783-0052
[email protected]

Ongoing Book Sale
The La Crosse County Library and the Friends of the Library offer used and donated materials for sale. Each library location has book sale items. Campbell's items are in the lobby; current pricing is posted in the sale area.
---
Friends of the Campbell Library
Since 1986 the Friends of the Campbell Library have supported the library with fundraising and volunteer time. An annual book and bake sale is held each spring. In the past this small but hardworking group has supplied funds for shelving, board books, an entertainer to kick off the summer library program, and equipment donations. New members are always welcome.