Holmen

The Holmen Public Library is the newest facility in the County system. Dedicated in September 2017, the library has 18,000 square feet and replaces the previous smaller location located in a former grocery store downtown.
Did you know?
In 1985, our library was evicted from the County courthouse. We found a temporary shelter in a local nursing home for three years before moving to a remodeled grocery store in Holmen.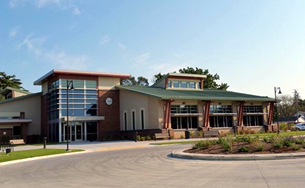 Open Hours
Monday
10:00 am - 8:00 pm
Tuesday
10:00 am - 8:00 pm
Wednesday
10:00 am - 8:00 pm
Thursday
10:00 am - 8:00 pm
Friday
10:00 am - 5:00 pm
Saturday
9:00 am - 2:00 pm
Holmen Public Library
121 W. Legion St., PO Box 220 Holmen, WI 54636-9614
(608) 526-4198
[email protected]

Ongoing Book Sale
The La Crosse County Library and the Friends of the Library offer used and donated materials for sale. Each library location has book sale items. Holmen's items are in the back of the adult nonfiction section; current pricing is posted in the sale area.