The Friends of the Onalaska Public Library

The purpose of the organization shall be to work cooperatively with Library staff to promote and improve Library services, materials, and facilities for the Onalaska community.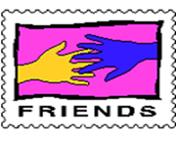 Specifically, the Friends:
Provide volunteer services
Encourage the broadest possible use of the library
Host meetings, workshops, and programs
Address special library needs
Meetings are normally held at the Onalaska Library on the 4th Thursday of the month at 6:30 pm.
For more information about this group, email [email protected]
Resources
Library Supporters' Bookcase—Add a book to our giving wall as a memorial or tribute

---
Schedule of Upcoming Events
Continue to check this page for future program information and join us. All library events are also listed on the calendar.
| | | |
| --- | --- | --- |
| Date | Event | Time |
| May 25, 2023 | Friends Meeting | 6:30 pm |
| June 1, 2023 | Movie Night: Women Talking | 6:00 pm |
| June 8, 2023 | Movie Night: The Woman King | 6:00 pm |
| June 22, 2023 | Friends Meeting | 6:30 pm |
| August 24, 2023 | Friends Meeting | 6:30 pm |
| September 7, 2023 | Movie Night | 6:00 pm |
| September 21, 2023 | Movie Night | 6:00 pm |
| September 28, 2023 | Friends Meeting | 6:30 pm |
| October 4, 2023 | Friends Book Sale Set-Up | Afternoon |
| October 5, 2023 | Friends Book Sale | 12:00 pm - 6:00 pm |
| October 6, 2023 | Friends Book Sale | 9:00 am - 5:00 pm |
| October 7, 2023 | Friends Book Sale | 9:00 am - 12:00 pm |
| October 12, 2023 | Movie Night | 6:00 pm |
| October 19, 2023 | Movie Night | 6:00 pm |
| October 26, 2023 | Friends Meeting | 6:30 pm |
| November 2, 2023 | Movie Night | 6:00 pm |
| November 16, 2023 | Friends Meeting | 6:30 pm |
| November 30, 2023 | Movie Night | 6:00 pm |
| December 7, 2023 | Movie Night | 6:00 pm |
| December 14, 2023 | Movie Night | 6:00 pm |